Summer Camp is Open for Registration
Spring Session begins March 26th.  We will begin registration for new students at the begininning of March.  Please join our mailing list and we will email you once classes are open for registration.  If you have any questions about any of our programs feel free to give us a call.  973-951-1376
Robot Revolution Teams take 5 out of 6 spots to 2016 Worlds at the
VEX IQ New Jersey State Championships.
Congratulations to 28K, 44E, 44G, 44R, and 44Y.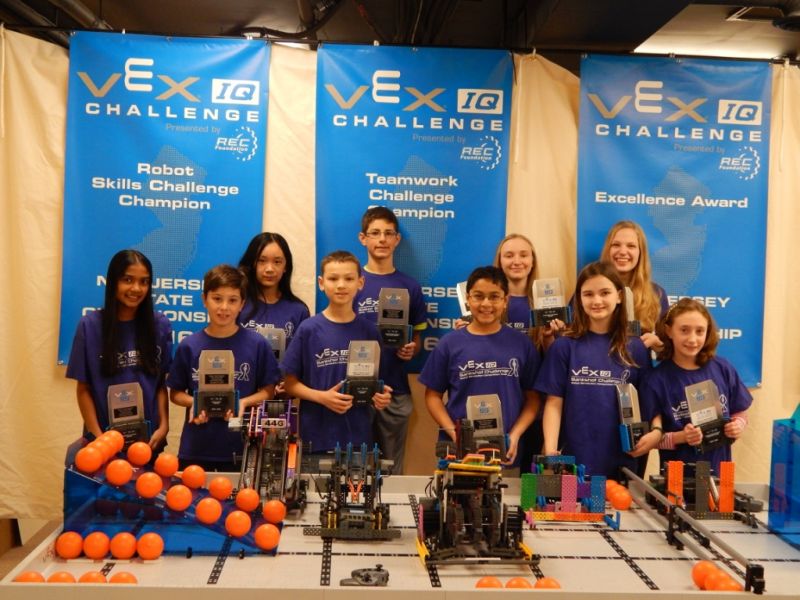 Back Row:  Laura Zang, Alec Nagpal, Sarah Marbaix, Nia Ralston
Front Row: Mira Ramasamy, Billy Maguire, Jeffrey Zhou, Avidan Shah, Charotte Betz, Gemma Freeman

Our unique school is providing the instruction and atmosphere to allow these great kids to flourish in an environment that fosters their creativity, allowing them to achieve their potential.
Learn Programming, Mechanics, Problem Solving, Critical Thinking all while having Fun.  Competitive Robotics is a wonderous medium for children to apply their knowledge and creativity all while feeding their appetite to learn more.
Winter Session has Begun
Don't miss our spring session!  Join our mailing list and we will send you a note when registration is open for new students in the beginning of March.  
Spring Session will start on March 26th.  We will skip the week of April 18th - 25th so that we can support our teams at the VEX Worlds in Lousville KY.  We will also not have class on Memorial day weekend.  This will allow classes to end the 2nd week in June.  
Winter Session classes will end March 19th.  We will have classes over MLK weekend but we will not have classes February break, 2/13 - 2/19.
We are very proud of the school we've created.  If you would like to see what we are all about, feel free to give me a call at 973-951-1376 and I will be happy to give you a tour of our Summit location.
Video, why robotics is important!
Whether you are a complete novice or a seasoned expert, the VEX IQ Challenge provides a challenge with multiple ways to achieve success, from scoring 1 point to 100.  Each success provides a platform for the roboticist to achieve and attain the next level.  Robotics competitions are a cooperative environment for children to learn about themselves and from others.  With multiple competitions each season open to all, the opportunity presents itself to learn and improve designs, programming and strategy.  This is the engineering circle.  A process of ideas, building and evaluation which goes on for years. 
2015-2016 VEX IQ Challenge 
Bank Shot
Balls will be flying.   The following video is the VEX IQ Challenge for this year.
You must install Adobe Flash to view this content.
Join the Revolution
Robotics brings STEM to life.  It is a fascinating platform that requires problem solving both in a cerebral logical method (programming) and in a physical way (mechanical engineering).  Throughout it all we constantly show how mathematics, science,  and engineering principles are needed to solve the problems.  Our goal is to fuel enthusiasm for learning every chance we get.
Our innovative, hands-on classes are rooted in our philosophy of 1 Student/1 Robot/1 Computer.
Think your child might like our program? Test your child with the Hour of Code.  If you have to rip him or her away from the computer, your child will love our classes!
Locations
Summit

34 Maple Street  

Lower Level

South Orange

19 Scotland Road

At Sparkhouse Studio

East Brunswick

The Hatikvah School

7 Lexington Avenue
Meet the NEW Robot
In September 2013, our entire school moved to the New VEX IQ Robot for grades 4 and up.  We couldn't be happier with this new robot.  Every student who has had experience with both our new VEX IQ robot and Lego Mindstorms has preferred the VEX IQ robot, from a programming aspect as well as a build aspect.  It simply is better!
Better programming language (Modkit based on Scratch)

More motors and sensors (up to 12 combined) build bigger more complex robots

A clear progression to VEX (high school robotics)

Remote control!!!  In addition to autonomous programming, we can now add remote control. What kid doesn't want to play just a little with their newly built creation?  Plus, it gives us a lot more that we can teach in terms of integrating sensors and user control.  It's just really cool!
Our goal is to advance your kids in the robotics world, giving them tools that they will use for the rest of their lives.